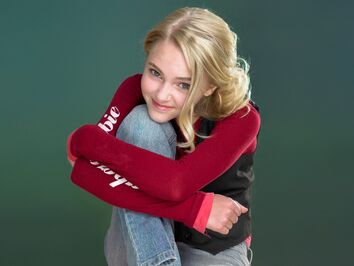 AnnaSophia Robb, age 22, is an American actress that developed her acting career as a child. She has played in many other movies besides Charlie and the Chocolate Factory, having the biggest success out of the 5 children. Her very first movie she stared in was Samantha: An American Girl Holiday (2004). Doing this also made her the very first person in history to portray an American Girl character in film. Some of her other movies include: Bridge to Terabithia (2007), The Reaping (2007), Jumper (2008), Spy School (2008), etc. Recently her fame has skyrocketed from acting in a new teen drama television series, The Carrie Diaries (2014 -2015), playing Carrie Bradshaw, the lead role. This series airs on The CW and acts as a prequel to the hit television series Sex and the City. Sadly, The CW recently canceled the series after the second season but rumors have recently been spreading for a comeback via fan posts. Currently AnnaSophia is starring in a new American thriller movie, A Conspiracy on JekyII Island, which wrapped up filming in December of 2013 and is yet to set a premiere date.
Ad blocker interference detected!
Wikia is a free-to-use site that makes money from advertising. We have a modified experience for viewers using ad blockers

Wikia is not accessible if you've made further modifications. Remove the custom ad blocker rule(s) and the page will load as expected.