Augustus Gloop
Talk

0
112pages on
this wiki
Augustus Gloop is one of the five winners of the golden tickets and is from Germany. He is a hungry, mean, foul, and a very fat boy. His mother, not knowing good eating habits and married to a butcher, lets Augustus stuff himself until he is as big as an elephant. His hobbies are eating, buying candy, eating some more and eating turkey, beef, pork, and chicken sausage. His motto is "I Eat More Candy!". He eats chocolate and sausage sandwiches for Lunch. 
The Chocolate Room
Edit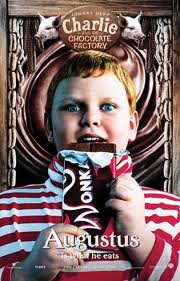 Augustus, upon entering the very first
room
of the factory tour, is eliminated from the group. They are told to enjoy the marvellous concoctions of the almost completely edible room but as Augustus over-indugles the buffett, he does not heed Wonka's first of many warnings.
"Hey Little Boy! My chocolate must never be touched by human hands!"
He keeps drinking from the chocolate river and falls in, getting covered in melted chocolate. The chocololate pipe arrives and sucks him up, but he becomes stuck because of his large stomach. The Oompa Loompas sing a song about him and the pipe breaks, the pressure finally pushing him out and takes him to the Strawberry-Flavored Chocolate-Coated Fudge Room. He is later seen leaving the factory covered in chocolate, eating himself. His mother, now realizing it's unhealthy, tells him stop.
The Golden Ticket
Edit
Augustus bought out so many chocolate bars that eventually he discovered the golden ticket, but took a bite out of it before realizing he had a ticket. He takes his mother to the chocolate factory.
In the game Augustus gets stuck in several pipes throuought the factory until Charlie comes and rescues him in each room. He finally ends up back in the Chocolate Room but plugs up the waterfall causing the river to dry up! Once you climb up to the waterfall system an Oompa Loompa fixes the waterfall and Augustus is free but falls back into the river. Fortunately, three Oompa Loompas are there to pull him out!
How to make Chocolate and Sausage Sandwiches
Edit
1.  Get 2 Bars of chocolate, and use them as the bread
Edit
2.  Get 1 Bottle of chocolate syrup for the mustard
Edit
3. Get 1 Turkey, Beef, Chicken, and Pork,sausage, and put them on the sandwich 
4. Enjoy!!!!!!!!!!!!!!!!!!!!!!!!!!!!!!!!!!!!!!!!!!!!!!!!!!!!!
Calories: 5,000