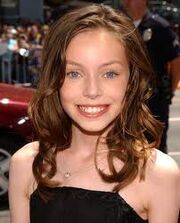 Julia Winter was all the rage of jealousy of tween girls everywhere when she scored the part as Veruca Salt in Tim Burton's 2005 version of
Charlie and the Chocolate Factory.
She was 11 when she starred as Veruca Salt, the spoiled brat. Julia Winter was born on March 17th, 1993, in Stocklom, Sweden and grew up in London, England. She is fluent in both Swedish and English. She is 22 now. She is great friends with
AnnaSophia Robb
, the young actress that starred as Violet Beauregarde.
Charlie and the Chocolate Factory
was her first and last movie. She auditioned for a few things and was a celebrity guest on CBBC's children's TV series,
Dick and Dom in da Bungalow
on January 21st, 2006. But then she soon decided she didn't want to be an actress and moved back to London, and then later back to her birth country of Sweden. She still appears on the red carpet sometimes with Annasophia Robb, in which you can tell, they still keep their friendship very close. Still, she is a star to the US and the UK although it is hard to find photos of her current appearance. She is currently in Sweden studying to become a doctor.
Ad blocker interference detected!
Wikia is a free-to-use site that makes money from advertising. We have a modified experience for viewers using ad blockers

Wikia is not accessible if you've made further modifications. Remove the custom ad blocker rule(s) and the page will load as expected.