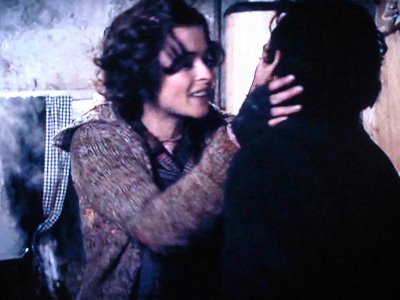 Mrs. Bucket first appeared Roald Dahl's book and appeared in both adaptions.
She had a brief singing stint in the original Willy Wonka film and was played by Diana Sowle.
And in Tim Burton's was played by his favoured actress Helena Bonham Carter.
Nothing Goes Better with Cabbage than Cabbage
Edit
Mrs. Bucket is the daughter of Grandpa George and Grandma Georgina.
She looks to be of mid 30's and is seen regulary porducing meals of Cabbage water.
She has no employement and relies on the feeble job of her husband to supply.
She is kind hearted and very caring.
No Work Talk at the Table
Edit
In the sweet finale she is seen in the Bucket house inside the factory supplying the roasted food.
She is also dressed very nicely and delivers a final line.